Nicole and Steven | Aberdeen Wedding Photographers
14/12/2021
Having had to postpone their
Aberdeen wedding
from their original date of May 2020, it was their third time lucky. So on the 6th August 2021, I set off to Keith to photograph Nicole and her bridal party getting ready at The Beauty Box and Fife Keith Hair and Beauty.
Having arrived at around 10.30 am with the rain pouring down. I did my best to reassure everyone that the weather would improve as the day went on.
With the bridal party having had their hair and makeup done, it was over to Steven and Nicole's house, where the groom and groomsmen were getting ready. With the photos taken of the groom, it was time to go back to the Ugie House Hotel in Keith.
I headed into the reception room to take photos of the room decor and table set up. Then it was on to find Nicole and bridesmaids for some wedding photos of her getting into her dress. As we were all in the same wedding venue, I took a few moments to go downstairs and capture the guests arriving before the ceremony.
With the approaching ceremony getting closer, it was time to return to the bridal party. Capturing Nicole as she left her room at
The Ugie House Hotel, Keith
made her way to become Mrs Allan.
With
Janet Donnely Humanist Celebrant
conducting the ceremony and giving me a tip-off! Steven, it turns out, was a big 'He Man' fan when he was younger. When she was to announce them, husband and wife., it was going to be.. 'By the power of Greyskull, I pronounce you husband and wife.' It gave me a chance to look out for a special moment during the ceremony.
After the wedding ceremony, I gave the couple a few minutes to catch their breath and have a chat with their family and friends. It also allowed me some time to capture some candid moments. The guests were chatting and congratulating the happy couple, allowing some natural moments.
Nicole and Steven had organised with Strathisla Distillery to use their grounds for the wedding photos. With the guests bussed down, we got the family groups photographed. Once they were back up at the Ugie House Hotel, we had some time by ourselves to get the couple portraits completed.
Back up at the Ugie House Hotel before the meal, we had the speeches. Another laugh a minute at this lovely wedding. With a short break, while everyone was enjoying their meal, I had a chance to get a break.
At the end of the meal, it was time to cut the cake. From here, it was time to capture some candid wedding photos of the guests mingling whilst the evening guests arrived.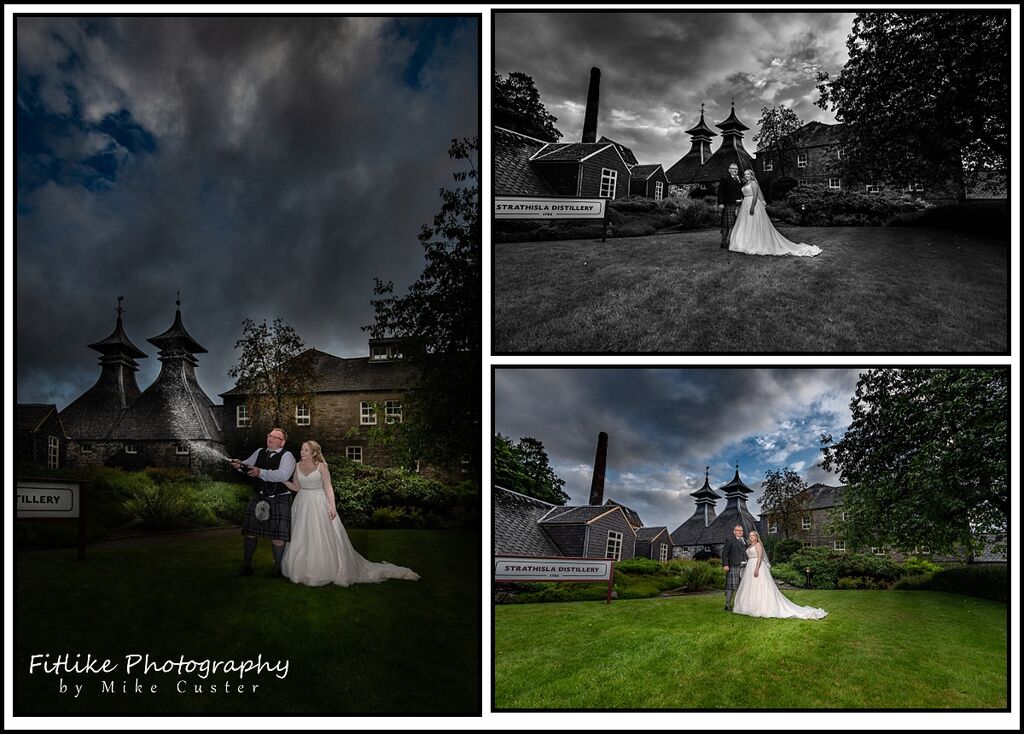 It was now time to capture the new Mr and Mrs Allan in their first dance.
From here, I made my way home after another beautiful wedding.